Organizations & Links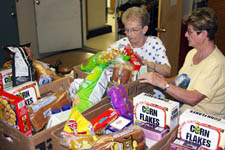 COMMUNITY LIGHTHOUSE & FOOD PANTRY
Coordinator: Donna Cryderman
P.O. Box 456
430 West State Street
Mancelona, MI  49659
(231) 587 9967

The Community Lighthouse is a non-profit retail and food pantry, giving to people in need. They are open 9:00 a.m. to 5:00 p.m. Monday thru Saturday.

---
MANCELONA FOOD PANTRY & RESALE SHOP
201 North Maple Street
P O Box 252
Mancelona, MI 49659
(231) 587-9606
The Food Pantry is open Tuesday, Wednesday & Thursday
from 9:00 a.m. to 4:00 p.m.
The Resale Shop is open Thursday and Friday from 9:00 a.m. to 4:00 p.m., and Saturdays from 9:00 a.m. to 2:00 p.m.
The food pantry services Antrim County residents. The resale shop carries just about everything!