Tourist Information
The Beauty of Northern Michigan
When you just want to get away from it all, get a breath of fresh air, and enjoy some quiet time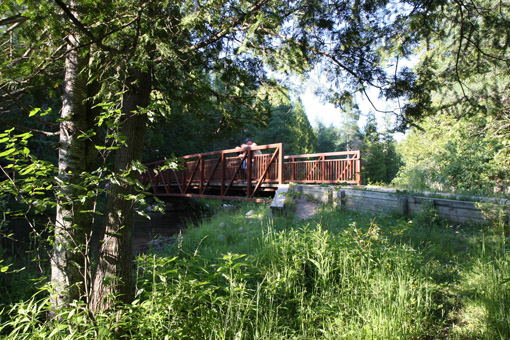 to yourself, the many parks and scenic gems in the Mancelona area provide spectacular views and ideal conditions for that alone time. Some of these secret hideaways are so well hidden, they are unnoticed by many who drive right  on by. Whether you are looking for a place to do a little fishing, hiking, have a picnic lunch or take a nap beneath a shady oak tree, Antrim County has the place for you!

We've even thrown in the GPS coordinates to help you find them easier. Don't forget your camera. The views at many of these locations is nothing short of spectactular, and you may even see a deer or two during your journey.
Snowmobiling & ORV - Trails and maps, some groomed, lots of great information and links. Scroll down.
Horse Back Riding- Both Hobby Horse in Mancelona (231-587-8090) and Lakes of the North (231-585-6000) offer horse back riding.
Canoeing - Swiss Hideaway Canoe Rentals (231-536-2341) and Long's Canoe Livery (989-348-7224)
Camping- Antrim 131 RV Campground (231-587-5665)
Fishing- Lake Bellaire, Clam Lake, Intermediate Lake, Torch Lake, Elk Lake, Birch Lake, Bass Lake, Six Mile Lake, Lake Skegemog
Also visit
Palmer Park in Mancelona
GPS: GPS: 44.89539 N, -85.06270 W
Baseball diamonds, pavilion, playground, basketball court, tennis court, restrooms. Palmer Park is located in the southeast corner of the Village of Mancelona on Palmer Park Road, between US 131 & County Road 571 (Darragh Road). To reserve the pavilion for private functions, please contact the Village of Mancelona, 231-587-8331.

Railroad Park in Mancelona
GPS: GPS: 44.90416 N, -85.06611 W
Located on the east side of US 131 at the traffic light. Picnic area, playground.
---
Places to Visit while in Mancelona & Antrim County

Jordan River National Fish Hatchery   |   Jordan Valley & Pinney Bridge 
Deadman's Hill Scenic Overlook   |      Landslide Creek Overlook  
Cascade Road   |   Green Lake   |  Wetzel Lake   |   Cedar Bend Farm  
Grass River Natural Area  |  Johnson's Pond   |  Sand Lake  
Outdoor Recreation - Snowmobile & ORV Trail Map Links
Antrim County's ORV Ordinance and Road Map    
ORV Trails in Kalkaska County - Groomed Trails
Jordan Valley Trails Council
Alba, Michigan
HookedOnMichigan.com
Messageboard for All Outdoor Recreation
Includes link to local, live Webcam